.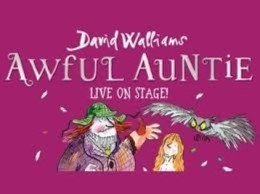 Awful Auntie
Every year we try to organise at least one evening visit to the theatre for our KS2 pupils. I have costed both War Horse and Matilda, but unfortunately the concession price for schools still remains high. However, I have today, received details of 'Awful Auntie' based on the novel by David Walliams. Anyone who has read any of his books, knows that this should be an enjoyable evening.
I have reserved a limited number of 20 tickets, at £10 each for Thursday 6th December 2018 at 7pm. If your child, who from September 2018 is in KS2, would like to attend, please pay the cost in full via SchoolMoney, by Friday 29th June. Tickets will be allocated on a first come, first served basis, for children only. Your payment via Schoolmoney will secure your child's place.
Should you have any questions please do not hesitate to contact me, or see the Theatre Royal website for further details.