Cyber Rules
What To Do (And Not To Do) To Be Cybersmart
Ask your parents or carer before you give anyone on the Internet your name or address or any other personal details. This includes the name of your school, your photo or any personal information about your friends or family.

Meeting people online might be fun, but remember the people you meet online may not be who they say they are. Someone claiming to be a 12 year – old girl may be a 40 year-old man.

If you want to meet someone you have so far only met online, ask a parent or another adult to go with you and always meet in a popular public place, preferably during the day.

Keep your password a secret, never give it to anyone (even your best friend).

If someone writes something rude or something that makes you feel uncomfortable in chat or email, leave the chatroom and don't respond to the email.

Tell your parent or another adult you trust if you see upsetting language, nasty pictures or something scary on the Internet.

Always ask a parent or adult before you fill out any forms, or give out money or credit card details.

Don't accept any offers that seem too good to be true – they probably are.
Remember to always be cybersmart. Protect your privacy.
Internet Safety

Educate against hate - New website launched by England's Education Secretary Nicky Morgan
On Tuesday 19th January the government launched their new website 'Educate against hate' in a bid to prevent young minds from being radicalised. The Parent Zone team have been involved in the development of the site and were delighted to see it made available to schools and parents. Nicky Morgan said at the launch that it would provide 'practical advice to protect children from the dangers of extremism'.
Supporting schools to create and embed effective ways to keep children safe online is at the heart of our work with schools. We hope this new resource will prove useful in this most difficult of spaces.
For further information please click below: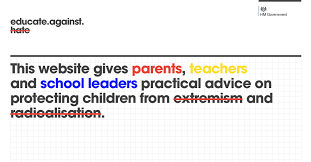 On this page you will find useful information and guidance to help you keep your children safe when they are using the internet. Remember this does not just apply to using a computer as many gaming machines and mobile phones allow access to the internet.
Know what your children are doing online and who they are talking to. Ask them to teach you to use any applications you have never used. Keeping the computer in a family room means that you can share your child's online experience – and that they are less likely to act inappropriately (i.e. via webcam).

Help your children to understand that they should never give out personal details to online friends — personal information includes their messenger ID, email address, mobile number and any pictures of themselves, their family or friends. If your child publishes a picture or video online, anyone can change it or share it. Remind them that anyone may be looking at their images and one day a future employer could!

If your child receives spam/junk email & texts, remind them never to believe them, reply to them or use them. It's not a good idea for your child to open files that are from people they don't know. They won't know what they contain — it could be a virus, or worse — an inappropriate image or film. Help your child to understand that some people lie online and therefore it's better to keep online mates online. They should never meet up with any strangers without an adult they trust.

Always keep communication open for a child to know that it's never too late to tell someone if something makes them feel uncomfortable.

Teach young people how to block someone online and how to report them if they feel uncomfortable.
The websites below all have resources which you might find helpful.
www.bestvpn.com/internet-safety
Click on the CEOP logo to be taken to their website: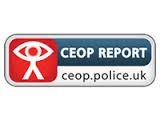 About CEOP
What We Do
CEOP works with child protection partners across the UK and overseas to identify the main threats to children and coordinates activity against these threats to bring offenders to account. We protect children from harm online and offline, directly through NCA led operations and in partnership with local and international agencies.
Our approach is holistic. Officers in CEOP and across the NCA who specialise in this area of criminality work side by side with professionals from the wider child protection community and industry.
Intelligence developed in the NCA intelligence hub informs NCA-CEOP operational deployments, steers our development of new capabilities and underpins our dedicated ThinkUKnow education programme for children of all ages, parents and carers.
Responsibilities
We pursue those who sexually exploit and abuse children, prevent people becoming involved in child sexual exploitation, protect children from becoming victims of sexual exploitation and sexual abuse, and prepare interventions to reduce the impact of child sexual exploitation and abuse through safeguarding and child protection work.
Our activity in each of these areas is underpinned by specialist teams in the CEOP command, and across the whole agency.
We work to track registered offenders who have a sexual interest in children and who have failed to comply with their notification requirements under the Sexual Offences Act 2003. This includes disrupting or preventing travel by offenders and disseminating intelligence to international forces and specifically targeting offenders while they remain overseas. It includes non UK nationals who travel to the UK.
We also focus on organised criminal groups profiteering from the publication or distribution of child abuse images, support local police forces with computer forensics and covert investigations and provide authoritative investigative advice and support to maximise UK law enforcement's response to crimes of child sexual abuse and exploitation.
We liaise with the online and technological industries, fine-tuning guidelines to minimise the possibility of present and future technology increasing the risk of sexual exploitation and sexual abuse to children. Our training and education specialists work together to raise the knowledge, skills and understanding of parents, carers, children and young people.
The CEOP command receives invaluable assistance from its partners and supporters in the UK and internationally, allowing us to do even more groundbreaking child protection work.